"Don't worry about all that… focus on school, don't have no babies and when you're done, everything else will fall into place." People in my life
A decade later, things still seem like they haven't fell in place. I will be the first to admit that I had plans to be married by 25, kids by 28, and living happily ever after.  Quiet as it's kept, I would still love to have that (minus the age limits). That was honestly my plan when I was 19 and in undergrad, but as the years went by, that clearly wasn't the case. So, here's a short list of things I've heard as the years passed: the good, bad, and absolutely ridiculous.
*When I graduated from college* I'm so excited for you getting your degree and all, but you know, time is ticking. Now that you got that out of the way, you need to focus on your future with your man and hopefully your family. | Now let me be clear, I shut down completely anytime I hear "you need" or "you know what you need to do". Beyond that, at the time, I felt that should have been the focus, but the pressure people can put on you can take over, if you let it. 
*Every time my unrealistic timelines passed*  Don't worry about that. Keep focusing on you and your career. I promise you everything will fall in place. | I high key believed this one with all my heart, and I did just that. I continued to focus on my career.
*When I returned to school for my masters degree* That's right girl! Get that degree and secure that career. You know everything else will come in due time. -AND- Dang you in school again?!?!? You must like being in school because you clearly ain't looking for no man. I mean that's what I was doing, but it felt like this was almost a pity comment. I completely ignored that looking-for-a-man comment because I knew that was their own issues and not mine. In the words of my kindred spirit Rihanna…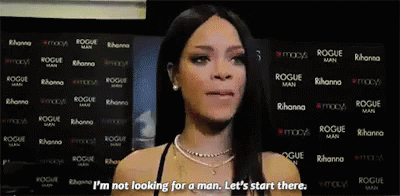 *When I started my doctoral program *You know what? I don't think you should tell a man about your degrees. No man wants a woman more achieved than him. It emasculates him. You want a man, right?! | This was the most confusing question I got because it unnecessarily called my sexuality into question (which is, again, more about the person making the statement's sexuality security than my own). There were so many layers to this that the discussion and lessons I discussed could be a topic of it's own. But I will leave it at this; people will try your entire life and some times you have to gather them right on up and send them on their way.
*At the end of my 30's* Well you can always be that "fast" auntie who travels the world and simply live your best life. Just live sis. 
This last one has stuck with me over the past decade, and that's simply to just live. Do the questions stop coming? No. Will the unsolicited advice continue? Yes. But the one thing I have ownership over is what I do with my time and energy. I determine how I live the life I have, and I write the chapters in them. So, I'll continue to live my best life (sans the timelines or pressure), full of memories and hearty laughs.